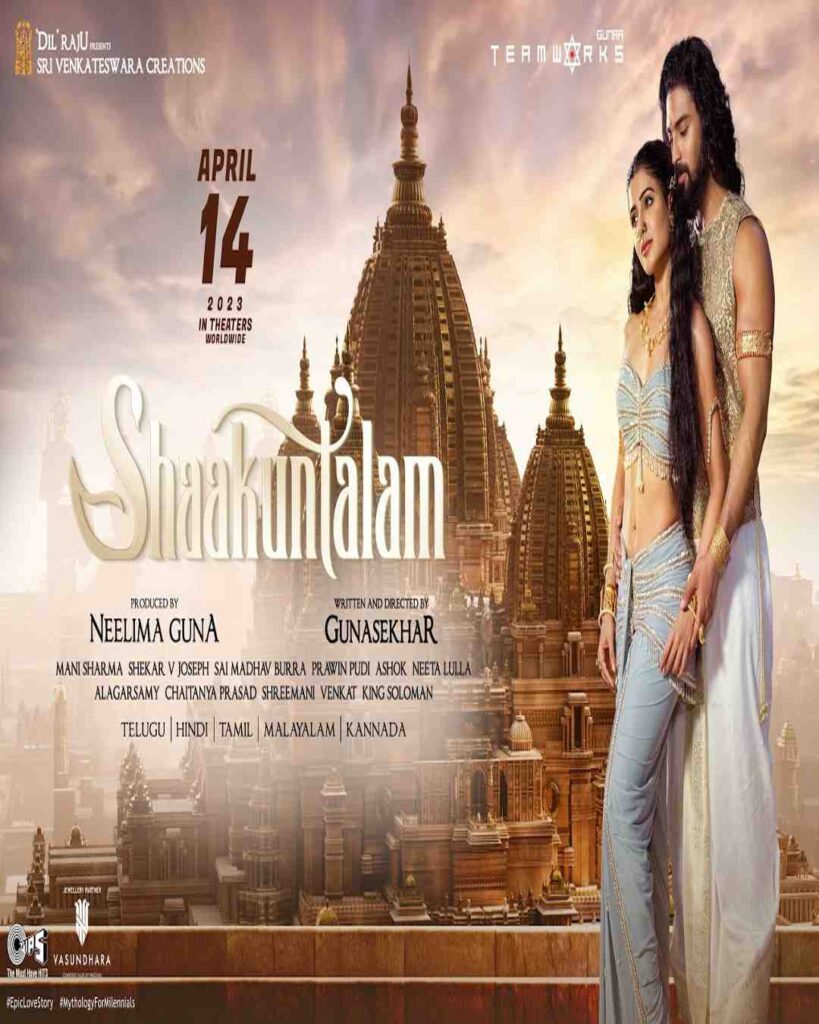 Introduction
Dear readers, welcome! Once again, welcome to my blog. The much-anticipated mythological drama "Shaakuntalam," starring Samantha, Dev Mohan, and Allu Arha, is the subject of my review today. This movie, which is being directed and produced by Gunasekhar, promises to enthral viewers with its splendour. But does the hype match the reality? Let's investigate!
Shaakuntalam Cast and Crew
| Role | Cast |
| --- | --- |
| Directed by | Gunasekhar |
| Dialogue | Sai Madhav Burra |
| Written by | Gunasekhar |
| Hindi Dialogue | Naresh Namdev |
| Shakuntala | Samantha Ruth Prabhu |
| Dushyant | Dev Mohan |
| Durvasa Maharishi | Mohan Babu |
| Anasuya | Aditi Balan |
| Priyamvada | Ananya Nagalla |
| Gauthami Matha | Gautami |
| Sarangi | Prakash Raj |
| Kashyapudu | Kabir Bedi |
| Menaka | Madhoo |
| Indra Deva | Jisshu Sengupta |
| Kanva Maharshi | Sachin Khedekar |
| Asura King | Kabir Duhan Singh |
| Prince Bharata | Allu Arha |
| Sanumathi | Varshini |
| Mahipala | Malhottra Shivam |
| Madhavudu | Siva Balaji |
| Villager | Srinivas Govind |
| King (as Sriram Reddy) | Sriram Reddy Polasane |
| Athikrodhanemi | Subbaraju |
| Vikrodhinemi | Harish Uthaman |
| Indra | Jignesh Gupta |
| Sharagnarava | Adarsh Balakrishna |
| Sharadvatha | Yash Puri |
| Mathali | Ravi Prakash |
| Kumbhilaka | Sathya |
| Mahamanthri | Shiva Krishna |
| Raja Purohit | Meka Rama Krishna |
| Farmer | Harish Chandra Rayala |
| Produced by | Neelima Guna |
| Executive Producer | Jasti Hemambar |
| Co-Producer | Dil Raju |
| Executive Producer | Kommineni Venkateswara Rao |
| Line Producer | Yashwanth |
| Music by | Mani Sharma |
| Cinematography by | Joseph V. Sekhar |
| Film Editing by | Prawin Pudi |
| Art Direction by | Ashok Kumar |
| Costume Design by | Neeta Lulla |
| Sound Designer | Bishwadeep Chatterjee |
| Re-recording Mixer | Kannan Ganpat |
| Visual Effects Supervisor | Prabhakar Balli |
| Visual Effects Coordinator | Evita Chander |
| Texture & Lookdev Artist | Damodharan V |
| Animation Supervisor | Mahesh Ganguly |
| Visual Effects Coordinator | M. Gopalakrishnan |
| Visual Effects Artist | Maniraj |
| Visual Effects Producer | Alagarsamy Mayan |
| Senior FX Artist | Argha Pal |
| Stunts | King Solomon, Venkat |
| Stunt Coordinator | Venkat |
| Chief Assistant Costume Designer | Bharati Kokane |
| Post Production Supervisor | C.V. Rao |
| Colorist | Bvr Shivakumar |
| Playback Singer | Javed Ali, Najim Arshad |
Story
Sage Vishwamitra is portrayed in Shaakuntalam as pursuing power through penance. But when the mighty King Indra starts to worry about losing his kingdom, he sends Menaka to woo Vishwamitra. Shakuntala (Samantha), a newborn girl born from their marriage, is given up for adoption by Menaka. The kid is found by Sage Kanva (Sachin Khedekar), who raises her as his own.
Years later, King Dushyant (Dev Mohan) and Shakuntala cross paths in the forest, where they fall in love right away. Shakuntala gets pregnant after their traditional Gandharva marriage. However, when Dushyant returns to his kingdom due to a curse from the sage Durvasa (Mohan Babu), he forgets about Shakuntala. The remainder of the movie follows Shakuntala as she struggles to demonstrate her relationship with Dushyant.
Plus Points
As Shakuntala, Samantha gives a remarkable performance. She gives it her best and excels in the emotional passages despite having little screen time in the second half. Samantha deserves praise for her commitment to her work since it takes guts for a famous actress to take on a mythical tale in the present era.
Dev Mohan makes an impression with his endearing demeanour and competent depiction of the character of the monarch. He emanates charisma and has strong acting abilities that could help him advance in his career. The performance of Sage Durvasa by Mohan Babu is excellent, and his impactful cameo in the intermission scene sticks out.
The cameo by Allu Arha is without a doubt the Shaakuntalam movie's strongest feature. She just makes a brief appearance, yet her incredible screen presence captures the audience's attention.
Minus Points
Given how shallow the plot of "Shaakuntalam" is, it is debatable if a feature film should be based on it. The conclusion of the story is so obvious that even those who are unfamiliar with it find it boring and difficult to become emotionally invested in the characters. Subba Raju, Jisshu Sengupta, Aditi Balan, Gautami, and Harish Uthaman are just a few of the great performers who are wasted in pointless cameos that add nothing to the story.
The visual effects (VFX) should have been at least passable if not excellent given the film's rumoured 80 crore budget. However, the VFX disappoints and falls short, with some
Minus
shots that are even incomplete in the final cut. The lacklustre graphics in the 3D edition do little to improve the Shaakuntalam movie. Additionally, it looks that the entire movie was shot in a studio, giving it an outdated appearance reminiscent of earlier Telugu mythological movies. Particularly unimpressive are the war scenes, which lack the grandeur and force one would anticipate. The narration is unconvincing throughout, and the extremely slow pacing makes the experience more like a TV serial than a movie.
Technical Aspects
Mani Sharma should be commended for his songs and background score, which give the Shaakuntalam movie dimension. Despite the fact that a few songs stand out, their placement within the story could have been more effective. The cinematography of Shekar V Joseph is mediocre and falls short of the grandeur and visual splendour that a legendary epic needs. Because certain sequences seem superfluous and might have been cut, the editing could have been crisper. Unfortunately, the production values are disappointing given the film's alleged budget.
Director's Execution
Gunasekhar, the director of "Shaakuntalam," makes mistakes in the way he handles the movie. His desire to share a mythological tale with contemporary audiences is admirable, but the result is far from satisfactory. The narration lacks intensity and fails to draw viewers into the story's drama and emotions. The portrayal of the characters is lacking, and their growth is ineffective. The poor VFX further distances viewers from the action in the movie. Additionally, the film's target audience, primarily millennials, may not find the use of ancient Telugu language in several parts to their taste.
Verdict
Finally, "Shaakuntalam" is a mythical play that fails on a number of levels. Its cinematic appeal is diminished by the absence of drama and emotional depth. The lacklustre VFX and lacklustre action scenes lessen the impact of the movie even more. Although Samantha gives a great performance and there are a few remarkable scenes, this high-budget movie falls short of the mark. I would advise avoiding it and looking into different cinematic possibilities.
FAQ (Frequently Asked Questions)
Q: Is "Shaakuntalam" worth watching?
A: Unfortunately, "Shaakuntalam" fails to impress. It lacks the necessary drama and emotional depth to engage audiences fully.
Q: How is Samantha's performance in the film?
A: Samantha delivers a commendable performance as Shakuntala. Despite limited screen time, she shines in emotional scenes and deserves appreciation for taking on a challenging role.
Q: Are the visual effects (VFX) well-executed?
A: No, the VFX in "Shaakuntalam" disappoint. Despite the reported high budget, the graphics fall short, leaving much to be desired.
Q: What about the supporting cast?
A: The talented supporting cast, including Subba Raju, Jisshu Sengupta, Aditi Balan, Gautami, and Harish Uthaman, are wasted in insignificant cameos that offer little significance to the overall plot.
Q: Does the film appeal to modern audiences?
A: The execution of "Shaakuntalam" struggles to resonate with modern audiences, with its slow pacing, lackluster narration, and dated visuals.
Q: Are there any positives about the film?
A: Yes, Samantha's performance, Dev Mohan's presence, and Allu Arha's captivating cameo are the film's highlights. However, they are not enough to salvage the overall disappointing experience.
Thank you for reading my review, and I hope it helps you make an informed decision about whether to watch "Shaakuntalam." Stay tuned for more reviews and updates!
Disclaimer: Anti-Piracy Statement
As a responsible platform, we want to be clear that we do not encourage or enable piracy in any way. The aforementioned details of "Shaakuntalam" and its cast and crew are only being offered for informative purposes. In order to access films and other types of entertainment legally, we highly advise our users to respect the rights of content creators.
Filmmakers, actors, and everyone else involved in the creative process have their rights violated by the criminal practise of piracy. It discredits the effort, commitment, and money that go into making movies. You are directly supporting this illegal activity if you watch or share unauthorised copies of films.
We urge you to support the film industry by choosing legal platforms for watching movies, such as authorized streaming services or theaters. By doing so, you can enjoy the content while ensuring that the creators are duly rewarded for their efforts. Let's join hands in creating a sustainable and ethical environment for the entertainment industry.
Remember, piracy is a crime, and it is our collective responsibility to respect intellectual property rights and foster a culture of creativity and innovation.
Say no to piracy!
Disclaimer: The above disclaimer is a general statement and not specific to any particular movie. It serves as a reminder to avoid engaging in piracy in any form.
Also check: Kalyanam Kamaneeyam