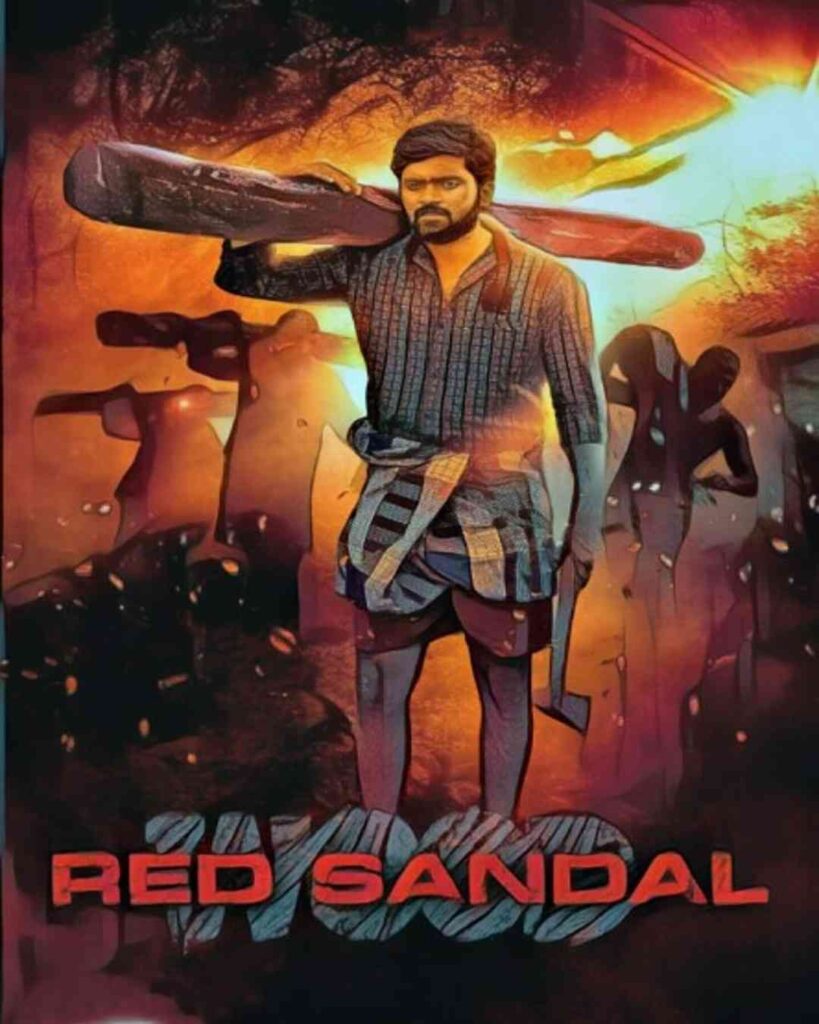 Red Sandalwood
2023
Cast: Vetri, P. Samuthirakani
Red Sandalwood Movie 2023 Review
Synopsis
In Red Sandalwood Movie A boxer from north Madras named Prabha (Vetri) embarks on a journey to the forests of Andhra Pradesh in search of his girlfriend's brother, Karuna (Kabali Viswanath). Upon his arrival, Prabha becomes entangled in a red sandalwood smuggling case and is taken into custody by a senior police official who is involved in the illicit trade.
As Prabha tries to prove his innocence, he uncovers a scandal that has taken the lives of many innocent Tamilians who have been working as laborers in the region. He also learns that a ruthless kingpin named Harimara (KGF Ram) is behind the smuggling operation.
Determined to bring Harimara to justice, Prabha teams up with a special task officer (Ganesh Venkatraman) to take down the smuggling ring. However, their efforts are hampered by corrupt officials who are in league with Harimara.
Review
It is a film with a great idea. The premise of a boxer getting involved in a red sandalwood smuggling case is intriguing, and the film's initial setup is promising. The film takes us into the depths of the red sandalwood forests, where we see the harsh realities of the smuggling trade.
The film's performances are generally good. Vetri delivers a strong turn as the lead protagonist, conveying Prabha's determination and resilience in the face of adversity. Ganesh Venkatraman is also effective as the special task officer who is determined to bring down the smuggling ring.
However, the film's biggest weakness is its writing. The characters are underdeveloped, and their motivations are often unclear. The plot is also full of holes, and the film's pacing is uneven. The second half of the film feels particularly slow, as the filmmakers struggle to maintain momentum.
In addition, the film's treatment of the red sandalwood smuggling trade is somewhat superficial. The film does not delve into the complex social and economic factors that contribute to the trade. As a result, the film's message feels somewhat simplistic.
Overall, It is a film with a promising premise that is ultimately let down by weak execution. The film's good performances and intriguing subject matter are not enough to overcome its flaws. As a result, the film is only likely to appeal to viewers who are particularly interested in the topic of red sandalwood smuggling.
Red Sandalwood Movie Cast & Crew
| Field | Value |
| --- | --- |
| Movie Name | Red Sandalwood |
| Movie Release Date | September 2, 2023 |
| Movie Based on | True story |
| Language | Tamil |
| Genres | Crime, Drama, Thriller |
| Movie Quality | HD |
| Movie Star Name | Vetri, P. Samuthirakani, Bhagavathi Perumal |
| Movie Running Time | 143 Minutes |
| Movie Director Name | Vetrimaaran |
| Movie Producer Name | Elred Kumar, S. R. Prakashbabu, S. R. Prabhu, P. T. Selva Kumar |
| Movie Music By | Sam CS |
| Movie Cinematography Name | Velraj |
| Movie Edited By | G. B. Venkatesh |
| Movie Production Company Name | Vetri Maaran Studios, Rockfort Entertainment |
| Movie Distributed By | Red Giant Movies (Tamil Nadu), Dil Raju Productions (Telangana and Andhra Pradesh), KRG Studios (Karnataka) |
| Location | Tamil Nadu, Andhra Pradesh, Telangana |
Most Searched FAQs
Is Red Sandalwood based on a true story?
No, Red Sandalwood is not based on a true story.
Who plays the lead role in Red Sandalwood?
Vetri plays the lead role in Red Sandalwood.
What is the red sandalwood smuggling trade?
Red sandalwood is a rare and valuable wood that is used in traditional Chinese medicine. The smuggling of sandalwood is a lucrative business, and the film's protagonist becomes entangled in this illicit trade.
Is Red Sandalwood worth watching?
It is a film with a promising premise, but its weak execution ultimately makes it an average outing. If you are a fan of Vetri or are interested in the topic of sandalwood smuggling, then you may find the film worth watching. However, if you are looking for a well-crafted thriller, then you may be disappointed.
Disclaimer:
Filmmakers are deprived of their due compensation and the film industry is harmed by the terrible crime of piracy. We oppose the unauthorized downloading or viewing of pirated films. It is against the law as well as unethical to watch pirated movies. Strict fines and perhaps jail time are possible outcomes.
We implore you to watch films through reputable theaters in order to support the film industry. You will be contributing to the possibility that filmmakers will be able to develop great movies for us to enjoy if you do this.
Also, Check:
1. OMG 2 Movie
4. Shaakuntalam
5. Custody