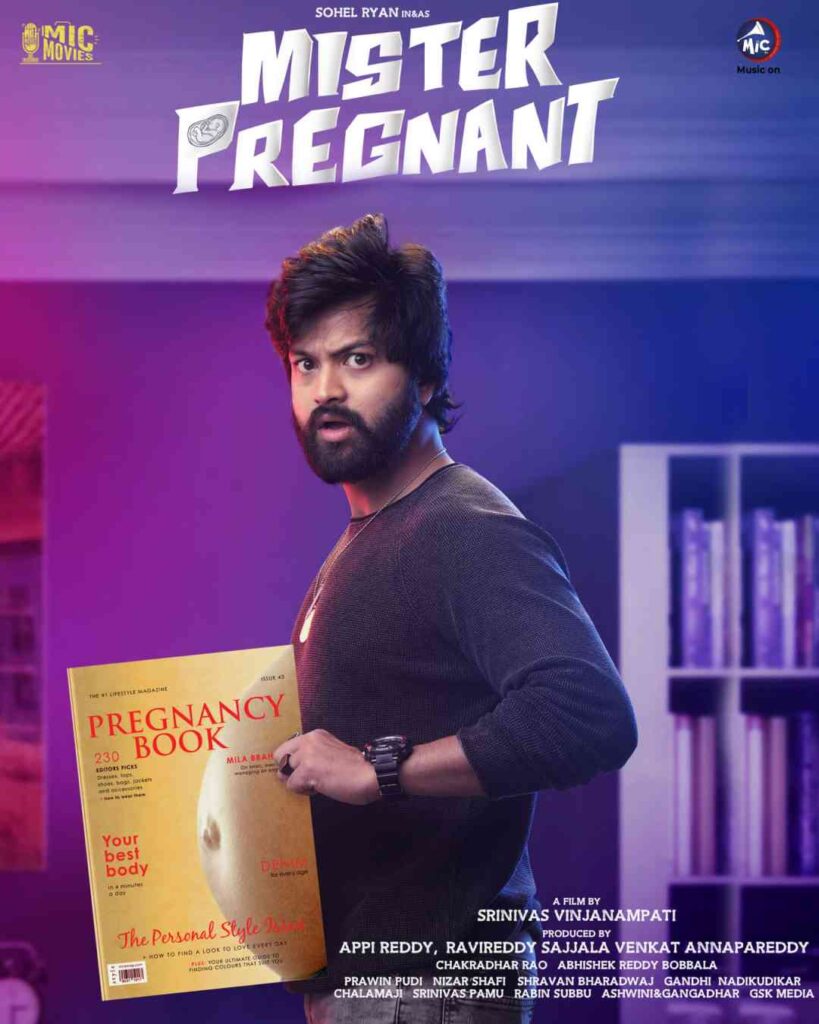 Director: Srinivas Vinjanampati
In the realm of cinematic innovation, Mr Pregnant Movie emerges as a striking testament to pushing boundaries. With its remarkable performances and skillful balance of sensitivity and humor, it manages to convey a powerful message of acceptance and societal reevaluation.
Mr Pregnant Movie Review (2023)
This Telugu film takes a plunge into the uncharted waters of a man's journey through pregnancy, presenting a narrative that diverges from the norm. As we delve into this unconventional tale, let's dissect the film's various aspects and its impact on the silver screen.
A Different Conception of Parenthood
The heart of Mr Pregnant lies in its audacious premise — a man shouldering the physical and emotional load of pregnancy. Syed Sohel Ryan takes the reins as Ram, a young man who embarks on this unprecedented journey alongside his wife Priya, played by Rupa Koduvayur.
The storyline delves into Ram's decision to take on pregnancy, illuminating the complexities and hurdles he encounters. This challenging terrain of self-discovery, both physical and emotional, provides a novel lens through which to explore parenthood.
Mr Pregnant Movie Cast and Crew
Here is the cast and crew of the 2023 Telugu movie "Mr Pregnant" in a table:
| Role | Actor |
| --- | --- |
| Ram | Syed Sohel Ryan |
| Priya | Rupa Koduvayur |
| Ram's mother | Suhasini Maniratnam |
| Ram's father | Raja Ravindra |
| Ram's friend | Brahmaji |
| Ram's boss | Ali |
| Ram's doctor | Viva Harsha |
| Ram's friend | Ananth |
| Director | Srinivas Vinjanampati |
| Writer | Srinivas Vinjanampati |
| Music director | Shravan Bharadwaj |
| Cinematographer | Nizar Shafi |
| Editor | Marthand K Venkatesh |
| Producer | Appi Reddy, Ravindar Reddy Sajjala, Venkat Annapareddy |
A Tapestry of Performances
The tapestry of Mr Pregnant Movie is woven with impressive performances. Syed Sohel Ryan, in particular, delivers a breakthrough portrayal of Ram, carrying the weight of the unconventional role with remarkable conviction.
Rupa Koduvayur, as Priya, adds depth to her character, creating a compelling chemistry with Ryan. The ensemble cast, including Suhasini Maniratnam, Raja Ravindra, Brahmaji, Ali, and Viva Harsha, leave their indelible marks, contributing to the rich narrative fabric.
Navigating Sensitive Terrain
Addressing a subject as intricate as pregnancy with the male protagonist requires a delicate touch. The film deftly navigates this sensitive terrain, blending sensitivity and humor to evoke a gamut of emotions.
It's a testament to the director's skill that such an unconventional premise is treated with utmost care, ensuring that its exploration is both respectful and thought-provoking.
FAQs About Mr Pregnant Movie
What's the central theme of Mr Pregnant Movie?
The film explores the concept of a man undertaking pregnancy, challenging societal norms and gender roles.

It dives into the physical and emotional aspects of this journey, showcasing the complexities of unconventional parenthood.
How are the performances in Mr Pregnant Movie?
The performances are commendable, with Syed Sohel Ryan's portrayal of Ram being a standout. Rupa Koduvayur delivers a compelling performance as well.

The supporting cast, including Suhasini Maniratnam, Raja Ravindra, Brahmaji, Ali, and Viva Harsha, contribute significantly to the film's impact.
What message does Mr Pregnant Movie convey?
The film emphasizes acceptance and tolerance while challenging traditional gender roles. It encourages viewers to reconsider preconceived notions about parenthood and gender responsibilities.
Q4: Are there any drawbacks to the film?
While the film is overall engaging, some viewers might find the ending a bit rushed and anticlimactic. Additionally, a few supporting characters could have been better developed for a more well-rounded narrative.
Would you recommend Mr Pregnant Movie?
Absolutely. If you're seeking a cinematic experience that veers off the beaten path, Mr Pregnant is a compelling choice. It engages with its unique premise, remarkable performances, and a message that resonates in today's world.
Note:
we firmly believe in supporting the creative efforts of filmmakers and the entertainment industry as a whole. We advocate responsible and legal consumption of content. Watching or downloading movies through illegal and pirated means not only infringes upon the rights of creators but also undermines the hard work and dedication that goes into making a film.
We strongly discourage the use of unauthorized sources for viewing or downloading movies. Instead, we encourage you to enjoy films through legitimate platforms that respect the rights of artists and contribute to the growth of the industry. Your support matters in ensuring the continued creation of quality content for everyone to enjoy.
Also, Check:
1. VIDUDHALA
2. Shaakuntalam
3. Custody
5. Virupaksha.