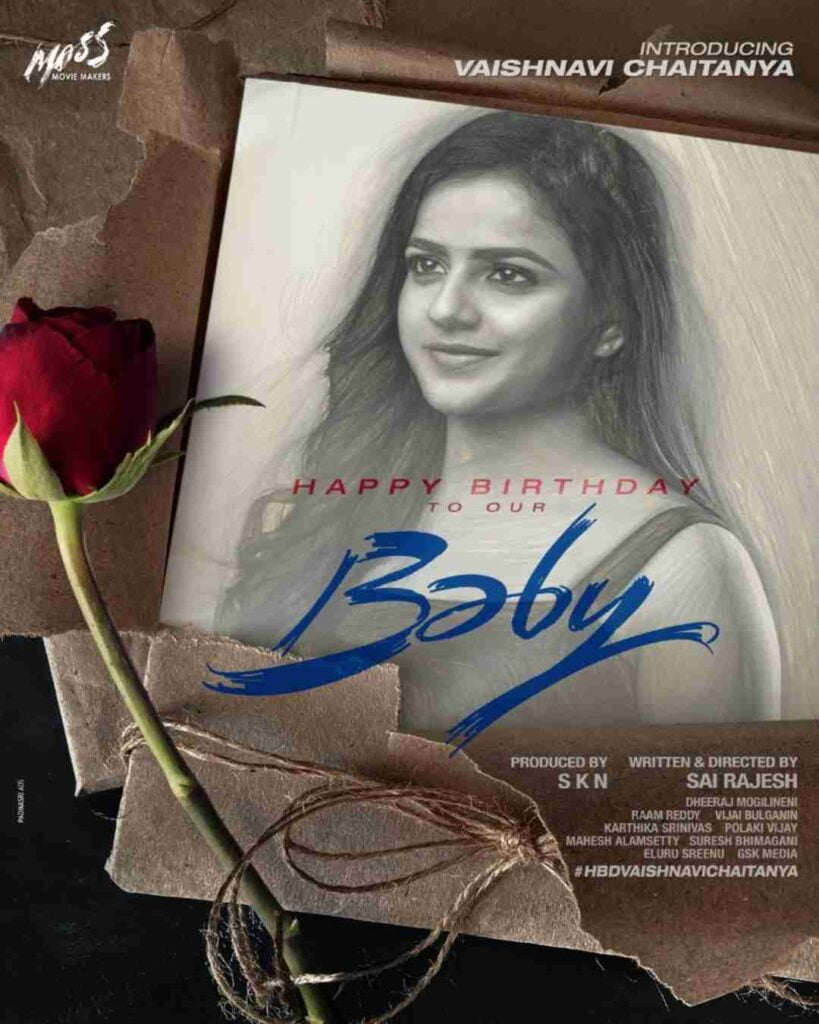 Cast: Anand Deverakonda, Vaishnavi.
 Director: Sai Rajesh Neelam
Baby Movie the latest Telugu coming-of-age romantic drama directed by Sai Rajesh Neelam, has finally graced the silver screen, leaving its audience eagerly awaiting its arrival.
Baby Movie Review:
The film boasts a talented cast with Anand Devarakonda, Vaishnavi Chaitanya, and Viraj Ashwin taking center stage. "Baby" unfolds against the backdrop of contemporary relationships, delving into the intricacies and transformations of its three diverse lead characters.
A Tale of Love and Transformation
The heart of the narrative revolves around Vaishnavi (Vaishnavi Chaitanya) and Anand (Anand Devarakonda), two young hearts who fall in love during their high school days despite their humble middle-class backgrounds. However, as they step into college life, their paths begin to diverge.
Vaishnavi finds herself drawn to Viraj (Viraj Ashwin), a privileged young man with a luxurious lifestyle. This newfound connection leads to a life-altering incident that dramatically impacts all three protagonists. As the story unfolds, they grapple with the consequences of their choices and actions.
Stellar Performances
Anand Devarakonda's performance as Anand is nothing short of remarkable, showcasing his full potential as an actor. Vaishnavi Chaitanya's portrayal of Vaishnavi is a revelation, impressing audiences with her impeccable talent and emotional depth. Viraj Ashwin's role as Viraj is perhaps his best yet, delivering a flawless performance. The chemistry among the lead actors adds an extra layer of depth to the film.
A Directorial Triumph
Director Sai Rajesh deserves applause for his skillful portrayal of modern relationships through well-crafted characters. The dialogues strike a chord with the target audience, particularly the youth, and numerous whistle-worthy moments resonate throughout the film. The second half stands out with its perfect blend of drama, emotions, and intense sequences, keeping the audience engrossed.
Melodic Brilliance
The music composed by Vijay Bulganin elevates the film to new heights. Each song in the soundtrack becomes an instant chartbuster, while the effective background score adds depth to crucial scenes.
A Few Hiccups
While Baby movie boasts a heartfelt and unconventional climax, it does have its drawbacks. The movie's lengthy runtime, clocking in at nearly three hours, could have been trimmed for a smoother experience. The first half of the film feels slow-paced and stretched, impacting the overall pacing.
Table Of Information:
| Movie Name | Baby |
| --- | --- |
| Movie Release Date | July 14, 2023 |
| Movie Based on | Original screenplay |
| Language | Telugu |
| Genres | Romantic drama, family |
| Movie Quality | High Definition |
| Star Names | Anand Deverakonda, Vaishnavi Chaitanya, Nagababu |
| Running Time | 147 minutes |
| Director Name | Sai Rajesh |
| Producer Names | SKN, Geetha Arts, Mass Movie Makers |
| Music By | Vijay Bulganin, Sai Kartheek |
| Cinematography Name | M.N. Balreddy |
| Edited By | Viplav Nyshadam |
| Production Company Name | Geetha Arts, Mass Movie Makers |
| Distributed By | Geetha Arts (Telugu), Aditya Music (Telugu), Eros Now (Hindi) |
| Location | India |
Final Verdict
Overall, Baby movie shines as a beacon of modern-day relationship dynamics. The performances of Anand Devarakonda, Vaishnavi Chaitanya, and Viraj Ashwin leave a lasting impact. The film's second half is an emotional rollercoaster, making it a delightful watch for the weekend. However, a tighter first half and a shorter runtime would have further enhanced its appeal.
123telugu.com Rating: 3.25/5
Reviewed by 123telugu Team
Note: Say NO to Piracy!
As a responsible platform, we strongly discourage the illegal downloading and streaming of movies. "Baby," like any other creative work, is the result of immense effort, talent, and dedication put forth by the filmmakers and artists involved. Piracy not only undermines their hard work but also damages the film industry as a whole.
By choosing to watch or download movies illegally, you are supporting piracy, which is both unethical and illegal. It deprives the creators of their rightful earnings and negatively impacts the production of future films. Instead, we encourage you to watch movies through legal channels, such as theaters, official streaming platforms, or by purchasing legitimate DVDs or Blu-rays.
Let us all respect the hard work of the artists and filmmakers by making ethical choices and contributing to the growth and sustenance of the entertainment industry. Together, we can create a thriving and vibrant film culture while ensuring that creativity continues to flourish. Say NO to piracy and support the official release of "Baby" and all other movies.
FAQ
Q1: Who are the lead actors in Baby movie?
A1: The lead actors in "Baby" are Anand Devarakonda, Vaishnavi Chaitanya, and Viraj Ashwin.
Q2: What is the running time of the film Baby movie?
A2: The film has a running time of approximately 175 minutes.
Q3: Who is the director of Baby movie?
A3: The film "Baby" is directed by Sai Rajesh Neelam.
Q4: When was Baby movie released in theaters?
A4: "Baby" was released theatrically on July 14, 2023.
Q5: What is the box office collection of "Baby"?
A5: "Baby" grossed approximately ₹77 crores worldwide.
Q6: Who composed the music for the film "Baby"?
A6: The music for "Baby" was composed by Vijay Bulganin.
Q7: What is the genre of the movie "Baby"?
A7: "Baby" falls under the drama genre.
Q8: Is "Baby" available on any OTT platform?
A8: As of now, the post-theatrical streaming rights of "Baby" is scheduled to premiere on Aha on September 8, 2023.
Also, Check:
1. VIDUDHALA
2. Shaakuntalam
3. Custody
5. Virupaksha.